Biografie Twisted Sister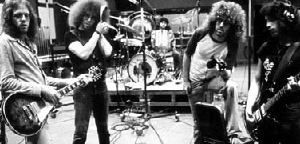 Twisted Sister este o trupa americana de heavy metal, ce a luat nastere in New York. Trupa a imbinat elemente din stilul
Alice Cooper
, New York Dolls, Kiss precum si New Wave of British Heavy Metal. Desi trupa a fost formata de chitaristul Jay Jay French, toate piesele sunt compuse de Dee Snider.
Trupa s-a format in 1973, atunci cand Jay Jay French s-a alaturat trupei Silverstar. In acele zile, French folosea numele
Johhny Heartbreaker
. Dupa mai multe schimbari de componenta, in 1976
Dee Snider
a devenit vocalul si compozitorul trupei. Abilitatile de frontman ale lui Snider, a propulsat trupa catre un succes local. In 1982, Twisted Sister a semnat un contract cu Secret Records, o casa de discuri din Anglia.
In 1982 a fost lansat primul EP, intitulat Ruff Cuts. A urmat LP-ul Under The Blade. Ulterior, trupa a semnat cu Altantic Records, sub egida careia au lansat You Can't Stop Rock 'n' Roll. Succesul international a venit o data cu discul Stay Hungry. Videoclipurile pieselor
We're Not Gonna Take It
si I Wanna Rock, au ajuns in lista celor mai difuzate clipuri de pe MTV. Stay Hungry a fost vandut in peste 2 milioane de exemplare. Under the Blade si We're Not Gonna Take It au ajuns in Senatul Americii, datorita versurilor explicite. Snider a fost chemat in instanta pentru a apara drepturile muzicienilor americani.
In 1985, a fost lansat
Come Out and Play
, produs de Dieter Dierks. In 1987, dupa lansarea lui Love Is For Suckers, Snider a parasit trupa, iar casa de discuri a anulat contractul. In 1988,
Twisted Sister
a incetat activitatea muzicala
Stil:
glam metal/heavy/shock rock
Componenta:
Dee Snider - voce
Eddie Ojeda - chitara/backing vocals
Jay Jay French - chitara/voce
Mark Mendoza - bas
A.J.Pero - tobe/voce
Discografie:
Under the Blade
You Can't Stop Rock 'n' Roll
Stay Hungry
Come Out and Play
Love Is for Suckers
TWISTED SISTER
www.twistedsister.com
www.myspace.com/twistedsiter