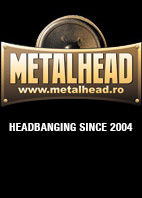 Stiri Concerte Bilete online Poze Artisti Tabulaturi chitara Versuri Radiouri Online Liste Forum METALHEAD Shop
WITCHERY
Biografie
Country: Sweden Label: Century Media Website: www.witchery.se Formed in: 1997 1997- Thrash metal Line-up Current members: 1997- Sharlee D'Angelo - bass 1997- Patrick Jensen - guitars 1997- Richard Corpse - guitars 1997- Tony "Toxine" Kampner - vocals 2001- Martin "Axe" Axenrot - drums Former musicians: 1997-2001 Mique "Micke" Flesh - drums Discography 1998 Restless & Dead 7.8 1999 Dead, Hot And Ready 9 1999 Witchburner [EP] 8.7 2001 Symphony For The Devil 8.9 2006 Don't Fear The Reaper 8 ...
Toata biografia WITCHERY
Stiri cu WITCHERY
Trei dintre trupele ce nu au putut lua parte la editia din 2011 a festivalului Inferno sunt gata pentru a sarbatori pastele negru al anului viitor: BORKNAGAR : Fiti gata pentru o doza de black folk metal cu tenta progresiva odata cu revenirea celor de la Borknagar pe scena Inferno 2012 ! Trupa...


Piesa "Witchkrieg" a trupei Witchery este cea care da numele celui mai nou album al trupei si videoclipul sau poate fi urmarit pe METALHEAD accesand linkul de mai jos: WITCHERY - Witchkrieg " Witchkrieg " a fost lansat pe 18 iulie sub Century Media Records si a marcat debutul in trupa...


In luna iulie a anului curent, Witchery vor reveni in atentia publicului cu un nou album, intitulat "Witchkrieg" si un nou solist, Legion (ex-Marduk, ex-Devian). Despre noul material, grupul a declarat ca "este cel mai album Witchery de pana acum". Jensen : "Stiu ca multe formatii...


Top Versuri WITCHERY
Tabulaturi WITCHERY

Aboneaza-te la newsletter
Join the ranks ! LIKE us on Facebook