Biografie Within Temptation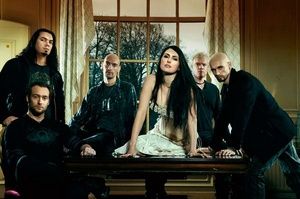 Formatia Within Temptation a fost fondata in 1996, in Utrecht, Olanda, de catre fostul chitarist al trupelor The Circle si Voyage, Robert Westerholt, impreuna cu prietena lui Sharon Janny den Adel. Primul album al trupei, "Enter" a aparut in 1997. Albumul care i-a facut celebri, dand o forma bine definita stilului trupei, a fost "Mother Earth" din 1999.
In anul 2003, formatia s-a mutat la GUN Records, re-lansand albumul "Mother Earth", premiat cu discul de platina in Olanda. In 2004, formatia a revenit cu un nou material de studio, intitulat "The silent Force", avand din ce in ce mai multe copncerte in Europa. A urmat o serie de concerte la diferite festivaluri ca: Pinkpop, Werchter, Rock Am Ring, Rock Im Park, Sweden Rock, Ruisrock, Aerodome, Wacken Open Air, Gurten plus concerte in deschidere la Iron Maiden in Zurich si Paris.
Pe 31 august 2005 succesul comercial al trupei a fost rasplatit cu premiul "Cel mai bine vandut artist olandez" la World Music Awards. Single-ul "What Have You Done", primul de pe noul album, "The Heart Of Everything", avea un invitat special la voce, Keith Caputo de la Life of Agony. Albumul a fost lansat in martie, iar al doilea single a fost "Frozen". Pentru aceasta piesa si pentru "The Howling", Within Temptation au filmat doua videoclipuri in Romania, in luna aprilie.
Publicul roman ii va putea vedea pe Within Temptation la ARTMANIA Festival 2007, care se va desfasura pe o perioada de trei zile, in Piata Mare din Sibiu, intre 15 si 17 iunie. Festivalul va beneficia si de prezenta altor nume definitorii pentru muzica rock, care deja au scris istorie, ca Anathema, My Dying Bride, Tarot, The Gathering si Haggard.
Componenta:
Sharon den Adel voce
Robert Westerholt chitara
Ruud Adrianus Jolie chitara
Jeroen van Veen bass
Martijn Spierenburg clape
Stephen van Haestregt tobe
Discografie:
Enter (1997)
The Dance - EP (1998)
Mother Earth (2001)
The Silent Force (2004)
The Heart of Everything (2007)
WITHIN TEMPTATION
www.within-temptation.com
www.myspace.com/withintemptation