Stiri Within The Ruins
Scrie si tu pe site cu Citizen Journalism.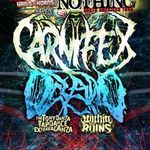 vineri, feb 11, 2011 - Carnifex vor porni in turneul Names Mean Nothing alaturi de Within The Ruins, Oceano si The Tony Danza Tapdance Extravaganza. Scott Lewis , solistul Carnifex , declara: 'Turneul Names Mean Nothing aduce publicului cele mai heavy si...

Join the ranks ! LIKE us on Facebook